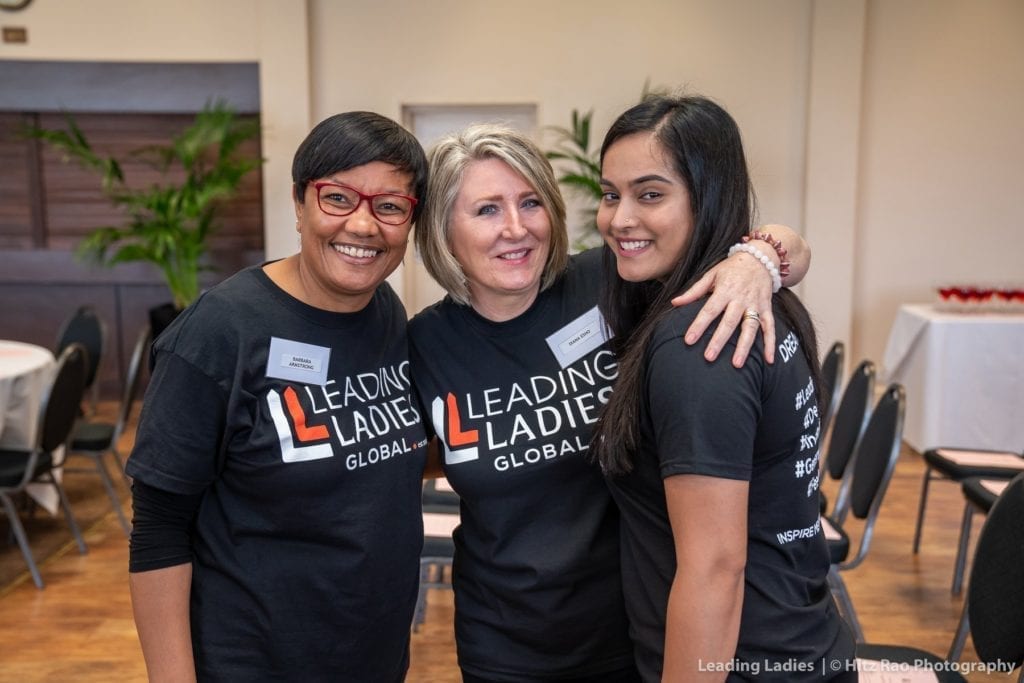 After months of anticipation, the day finally arrived: the launch event of Leading Ladies!
The evening was centred on the theme of 'Health, Wellbeing and Resilience', and provided a taste of the opportunities available to members of the organisation. Participants were divided into workshops ranging from Zumba and nutrition to 'Bolly Cric-hit', an exciting combination of bhangra fitness workout and soft-ball cricket. Wellbeing is frequently left on the backburner in conversations about women's progression, but Leading Ladies recognises that self-confidence, self-esteem and positive mental and physical health are essential to women's success.
The event was aptly located at the Leicestershire County Cricket Club where Leading Ladies committee member, Mehmooda Duke, has just been appointed the first female chair. She is joined by Karen Rothery to form the first female chair and chief executive combination in the club's history. The pair are a formidable duo who, in many ways, epitomise the Leading Ladies vision.
On the 24th June 2019, the question on everyone's lips was 'what is Leading Ladies?'
Members of the committee, ranging from Mehmooda Duke, a practising solicitor, to businesswoman Diana Esho, set out their vision for the project to a room of 180 enthusiastic attendees.
Leading Ladies, the committee explained, is a hub of women from different backgrounds, joining together to act as a source of inspiration, mentorship and support. The ultimate goal is to inspire 10 million women and girls in the next 10 years to "dream big and fly high". Clearly, this isn't an organisation that intends to pay any heed to the glass ceiling.
Leading Ladies is an intergenerational initiative, drawing upon the wisdom and experience of many generations of women and bridging the gap between women of all ages. Joining the committee on stage were a small group of 'Young Leading Ladies', ranging in age from 9 to 14. Unfazed by being on stage in front of nearly 200 adults, they stood as a testament to the untapped potential that the organisation aims to nurture.
"We have so much to give," emphasised Diana, explaining that while Leading Ladies is a professional organisation, this is networking "in a different way", not transactional, but supportive and collaborative.
So, what opportunities are available to get involved in Leading Ladies?
Members can share their skills, they can choose to mentor or be mentored, they can become ambassadors for Leading Ladies within their geographical area or their profession. The hub is divided into a number of 'sub hubs', such as the Education Hub, the Health & Wellbeing Hub, and the Entrepreneurs Hub, (the latter led by Glynis Wright, a leading solicitor who has recently been elected President of Leicestershire Law Society). Members can join a hub that appeals to their particular interests or goals and tailor their Leading Ladies experience.
Is this just for women, I hear you cry. Well, the clue is in the name. However, the committee were keen to emphasis that men can also get involved… but in a different way. Hitz Rao for example, the founder of Hitz Rao Photography, showed his support by acting as a 'Vision Partner', lending his brand and experience to the initiative. The group want men to be involved in encouraging and promoting women, but it is first and foremost a women-centred organisation.
What's next on Leading Ladies' radar? Upcoming events include a walk in the Peak District on 28th September 2019. In typical Leading Ladies fashion, a walk isn't just a walk. On the journey to the Peak District, participants will engage in workshops ranging from how to use Instagram effectively, to how to deliver a TED talk.
Budding entrepreneurs can also look forward to 'The Magic Carpet', a more inclusive and welcoming twist on 'Dragon's Den', where members can pitch ideas in order to obtain funding for what could be the next big thing.
Leading Ladies is for the dreamers. It's for the fearless. It's for the thinkers and the do-ers. It's for you.